Creating design aesthetics with a detailed eye for precision, balance & harmony.
S.I.F Gift Shop - Palms Resort & Casino, Las Vegas, NV
Simple Elegance and Rhythmic Sleek Lines Define this Trapezoid Retail Space
This unique shaped space has built-in custom millwork, wine display, merchandise displays and tray ceilings to elongate and optimize the form and function of this small space. I was able to keep the look refined and organized by creating custom millwork using high-end finishes. Wood, brass, and smokey mirrors surround the white porcelain walls and floors for an upscale, clean, modern look that compliments the overall Palms interior design renovations.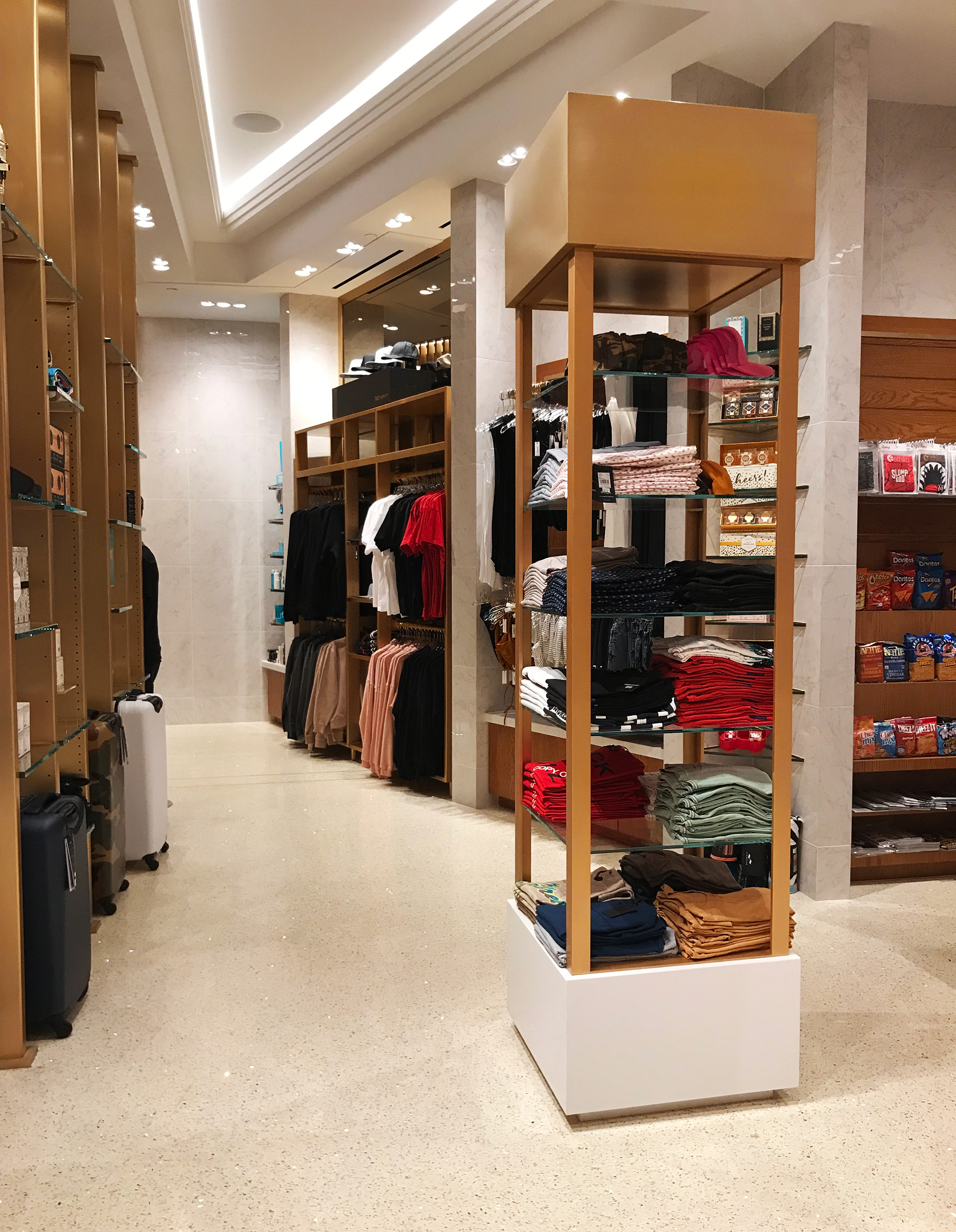 ESPORTS ARENA - Luxor Hotel, Las Vegas, NV
Refined Grunge Meets Industrial Tech
Esports brings you a revolutionized video gaming experience like no other. Designed to indulge all of your senses for an out of this world experience. From the moment you walk in, a stunning view of the custom wood beam arches greets you with riveting LED colored lights. Rich wood floors, zinc inspired panels, and venetian plaster walls defines the refined industrial look of Esports. Custom LED light effects throughout and custom mural art design add to the high energy of this spacious multi-level floorplan. Esports features two bars, including a VIP bar, VIP suites, owner's box suite, retail, gaming areas, and restrooms.
CHINA TANG - MGM Grand Hotel & Casino, Las Vegas, NV
Art Deco twists Into the New Sensual Opulent Vibe of China Tang
China Tang at the Dorchester in London was originally conceived by the late Sir David Tang. The new China Tang in Las Vegas was to replicate China Club in Hong Kong with the opulence in mind of the China Tang at the Dorchester. The vibrancy of this space really captures the original Shanghai inspired designs; fusing the art deco spirit of the far East with Paris' elegant and traditional Chinese forms and motifs. Stained glass doors welcome you at the VIP dining, adorned throughout are the custom wall covering designs inspired from original chinoiserie. Custom hand carved wood dining chairs, custom lighting, and sensual artwork add to the allure of this restaurant and bar lounge.
For the projects above,  I worked as the Lead Interior Designer with the YWS Design & Architecture team.